Green Cleaning Procedures
As green cleaning chemicals, green floor care products, green paper goods, and green equipment continue to gain momentum in our industry, more and more consumers are finding value in adopting green cleaning procedures.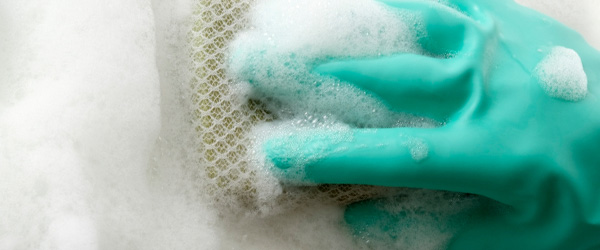 Momar Sales Support mentions using Neutra-Dis and other disinfectants sparingly during routine facility cleaning. Sales Support recommends using disinfectants only on touch-point surfaces such as door handles, sinks, toilets, and phones while cleaning all other surfaces with an appropriate all-purpose cleaner such as Green Heat, Vigor, or Neutrox. Cleaning tips like this are an example of "Green Cleaning." As green cleaning chemicals, green floor care products, green paper goods, and green equipment continue to gain momentum, more and more facilities are finding value in adopting green cleaning procedures. More and more people are starting to realize that green cleaning programs reduce exposure of building occupants, visitors, and custodians to potentially hazardous soils, chemicals, and microorganisms.
The techniques of green cleaning aren't significantly different from those employed in traditional cleaning systems. However, while traditional cleaning systems tend to focus on the appearance of clean, green cleaning focuses on reducing potential negative exposures to both human health and the environment while establishing cleaning schedules and methods that yield truly cleaner buildings.
Some examples of green cleaning procedures that can be adopted by any facility:
Focus on entryways: Increase the effectiveness of the matting system to capture more dirt and dust before it can penetrate deeper into the building. Use the new Magnet 128X and Magnet RTU on entry mats to attract soils from the bottoms of shoes.
Dust mopping with chemical treatment: Routine dust-mopping with a water-based treatment like Magnet not only improves indoor air quality, but also removes dirt and dust from surfaces before they have a chance to become embedded in the floor.
Use sustainable floor coatings: A floor coating like Tough-As-Nails Green that requires minimal maintenance will reduce the need for spray-buffing, burnishing, deep scrubbing, stripping, and refinishing thereby reducing the use of additional chemicals and reducing labor costs. When it is necessary to maintain the floor, use Envision, Hammer, and Pry-Bar.
Vacuuming using a commercial grade vacuum with a high-efficiency filter: A typical commercial carpet can hold five to ten times its weight in dirt before it becomes noticeable and typical vacuums just don't have the power to pull soil from deep inside the carpet fibers. Some that do have the power don't have the filtration system to keep that embedded dust from going right through the vacuum and back out into the air where it will settle into the carpet again. Momar offers the Hoover Commercial Windtunnel Clean-Air Upright Vacuum, which is designed to compliment any green cleaning program.
The concept of green cleaning — reducing health and environmental impacts — can be applied to any systemized cleaning process such as steam cleaning, day cleaning, zone cleaning, and so on. The key point is that cleaning is a process, and green cleaning is more than just switching a few chemicals or using recycled products. Green cleaning involves some procedural improvements designed to result in more efficient and more effective cleaning.
Keywords:
Touch Points Sustainable Chemistry
Indoor Air Quality
Limiting Chemical Exposure
Systemized Cleaning