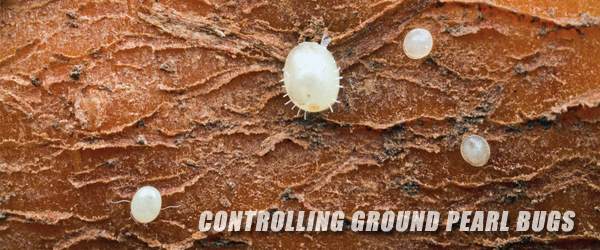 Ground Pearl Bugs are becoming a serious problem in the southeastern states. The roots of Bermuda, St. Augustine, Zoysia, and Centipede grasses can become infested with them. As they attack the roots of these grasses, the grass will die in circular spots. The damage is worst when it is dry as that is when the insects extract the most moisture from the root zone, depriving the grass of water. While grass cannot survive in these infested areas, many weeds actually thrive.
Unfortunately, no insecticide is labeled specifically for ground pearl control. In addition, there are no biological control management techniques currently available for ground pearls. The industry approach to controlling these pests are as follows:
When establishing new turf with sod or sprigs, check the roots to avoid planting infested grass.
Watering, liming and fertilizing as prescribed by a soil test, proper mowing height with a sharp blade, and other good cultural practices may help lawns recover from ground pearl injury, but such recovery may be temporary.
While university testing proceeds, maintaining healthy, vigorous lawn in hopes of minimizing damage is the recommendation.
Other warm season types of turf, such as bermudagrass, carpetgrass or bahiagrass, appear to be less sensitive to ground pearls and should be considered for lawns with severe ground pearl problems.
Non-specific predators, such as ants, may be useful in reducing populations of ground pearls.
Applying broad-spectrum insecticides (i.e. Permethrin Granules) could eliminate these natural enemies (Brandenberg 2003). However, the ground pearls' ability to avoid insecticides is believed to be the result of their long encysted "pearl" stage and their depth in soil (up to 12 in.) (Hoffman and Smith 1991).
Since the organisms move slowly and reside only as deep as the root zone, manual removal of infested areas with a generous buffer zone may alleviate the problem, but this remains to be verified (Buss 2008).
The waxy coating surrounding the insect helps it to survive almost any adverse condition.
Many sources recommend redesigning the area without grass to eliminate the ground pearls' food source, though I doubt this is a viable alternative for a golf course.